Floor Area:
77.87
Frontage:
8.50
Overall Height:
5.67
Description: Barn type building with heritage style doors and front elevation. The garage will accommodate two vehicles. Two full size stables are included and a good sized tack room.
Dimensions:
*/**Garage: 8.00 x 6.50 M
Tack room: 3.00 x 1.90 M
Stable 1: 3.00 x 2.80 M
Stable 2: 3.00 x 2.80 M
Notes: *Average. **Excluding stables/tack room.
---
---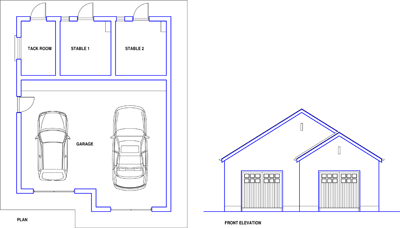 Plan Slides

Plan Downloads

Garage-Design-6-Brochure
(48 kb)
Plan Samples
Example of a completed Planning/Construction Stage Plan, seven copies of the plan and Building Specification are included with your order.View PDF »
Site Layout Plan/Site Location Maps are required for a Planning Application and set out the site dimensions, orientation, dwelling/garage location and other required details.View PDF »
Most Local Authorities require a Landscaping Proposal to form part of a Planning Application and setting out the site dimensions, orientation, dwelling/garage location, defined site boundaries, lawn areas, planting and schedule of species.View PDF »